As we mark the passage of the old year and look forward to new horizons, it might be worthwhile to take a look back at our past and consider how quickly a moment passes.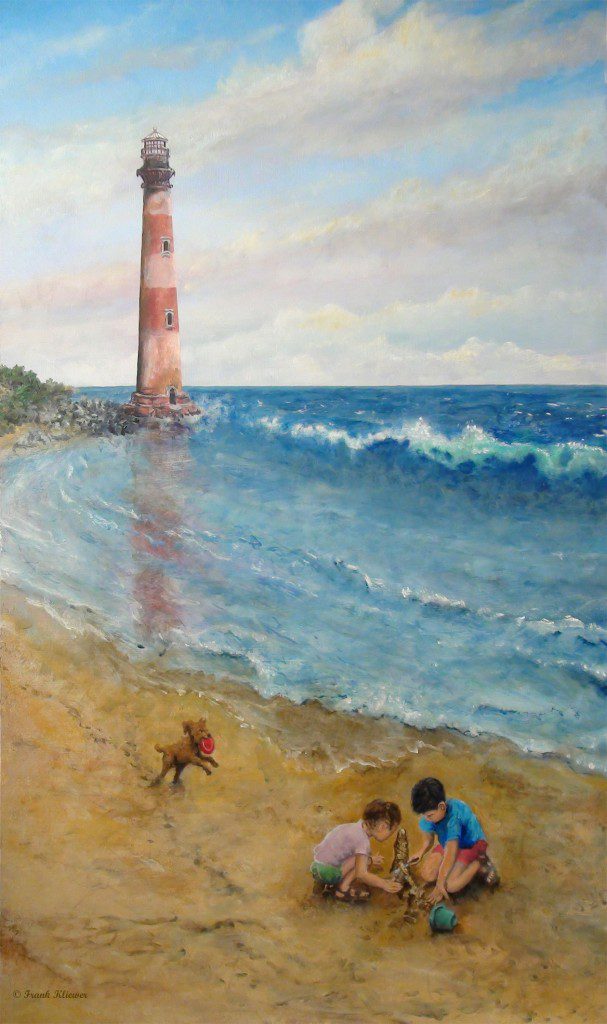 Frank's portrayal of his grandchildren a decade ago, playing in the sand, is incorporated into this 18″ x 30″ acrylic on wood painting "Sand Castles." Also featured is the Old Charleston (Morris Island) lighthouse, built in 1876. It is the third tower to occupy that space, the first built in 1767.
His grandson is now in the U.S. Air Force and will complete basic training next month. His granddaughter will be graduating high school in two years. The poignancy of this fleeting moment of childhood is echoed in the old tower, with its outdated technology and the encroaching sea. And yet it still stands, proud, battered, the stories of lives redeemed written in every brick.
We can choose to look back with sorrow and regret or move on with indifference and thoughtlessness. Or we can bless the moment and then let it go. It is our choice. We follow our lights as we can.
"…and the great shroud of the sea rolled on as it rolled five thousand years ago."
The last line of Moby Dick by Herman Melville
We wish you peace and joy in 2014. Thank you for visiting this site.
Please come again.